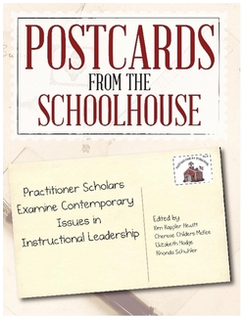 Publication Date:
August 2013
Postcards from the Schoolhouse
Kimberly Kappler Hewitt, Cherese Childers-McKee, Elizabeth Hodge, Rhonda Schuler, Eds.

There is a sense of urgency that surrounds the imperative to provide all
children a quality eduction, and instructional leaders have an ethical
responsibility to meet this obligation. This book explores the role of
leadership as it relates to the elements of curriculum and instruction
and examines contempory global, national, state, and local challenges facing educational leaders. This book focuses on the intersection of research, theory, and practice.
ORDER BOUND COPY CLICK HERE (Preview Available)
(Not available in Ebook option)